Donald Brashear is the current Left Winger for the Washington Capitals. Over his career, he has also played for the Philadelphia Flyers, Vancouver Canucks, and the Montreal Canadiens. Brashear entered the league in the 1993-94 season with the Canadiens. Over his career, he has amassed 2321 PIM.
Career
Donald has has played 13 years in the NHL and played one year in the LNAH during the lockout season.
Key Wins
September 15, 1997 - Brashear defeats a young Georges Laraque
February 21, 2000 - Brashear defeats Marty McSorley and later gets knocked out after a blow to the head by McSorley's stick
Key Losses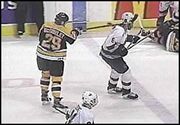 Unknown - Brashear is TKOed by Chris Simon in the minors.
December 18, 1993 - Brashear is embarrased by Bob Probert in one of his first fights and ends up skating away from him and being knocked down.
February 10, 2006 - Doug Doull beats Brashear pretty bad scoring a knockdown win and damaging Brashear's rep greatly.
Rivals
Donald Brashear has made many enemies over the course of his career. Some of the more famous ones being Tie Domi, Bob Probert, Sandy McCarthy, Marty McSorley, and more recently, Colton Orr.
Infamous Moments