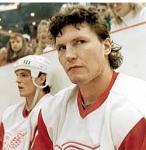 Bob Probert was a left winger for the Detroit Red Wings and Chicago Blackhawks. He is widely considered to be the best fighter all-time in the NHL. Probert entered the league in 1985 with the Red Wings and played for them until the end of the 1993-94 season.
Career
Key Wins
Key Losses
Rivals
Off the Ice
Cocaine Addictions
DUIs
 This Article is a Stub. Please help the Hockey Fight Wiki by adding to it!
Ad blocker interference detected!
Wikia is a free-to-use site that makes money from advertising. We have a modified experience for viewers using ad blockers

Wikia is not accessible if you've made further modifications. Remove the custom ad blocker rule(s) and the page will load as expected.